I suppose maybe it's not my month, but it's the month when we get to talk a whole lot about some of what makes me "extra special" as Mommy says.
It's Down syndrome awareness month!  Are you aware?
My friend Georgia's mommy does this really neat thing for our month (It's Georgia's month, too, ya know.)  You can read about it if you click on the cool little button right down there.  Like under this.  See it?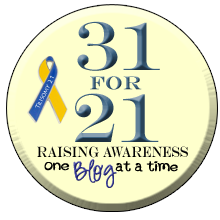 Grab This Button
Mommy helped Miss Tricia get the button ready, and everyone has it on their blogs so other people can know about our month!  Isn't that great?
So I'm gonna put things up every day, as much as I can, and most of it will be pictures with little stories.  Because even though I am "extra special,"  I do regular stuff every day that somebody might want to see.
It's gonna be a great month!